The r/v IMOR is built as a multi-role shallow water survey and ROV support twin hulls vessel (dedicated for area almost from beach to 200 Nm offshore). She is configured and capable of performing a range of tasks, such as: oceanographic measurements, hydrographic and geophysical operations, bottom and pipeline inspection, others. The vessel can be easily re-configured accordingly to requirements and adaptable solution to varying demands in all subsea surveys. The IMOR offers extremely cost efficient and flexible solution for many subsea tasks, and also will offers the highest standards of safety and technologically advanced systems.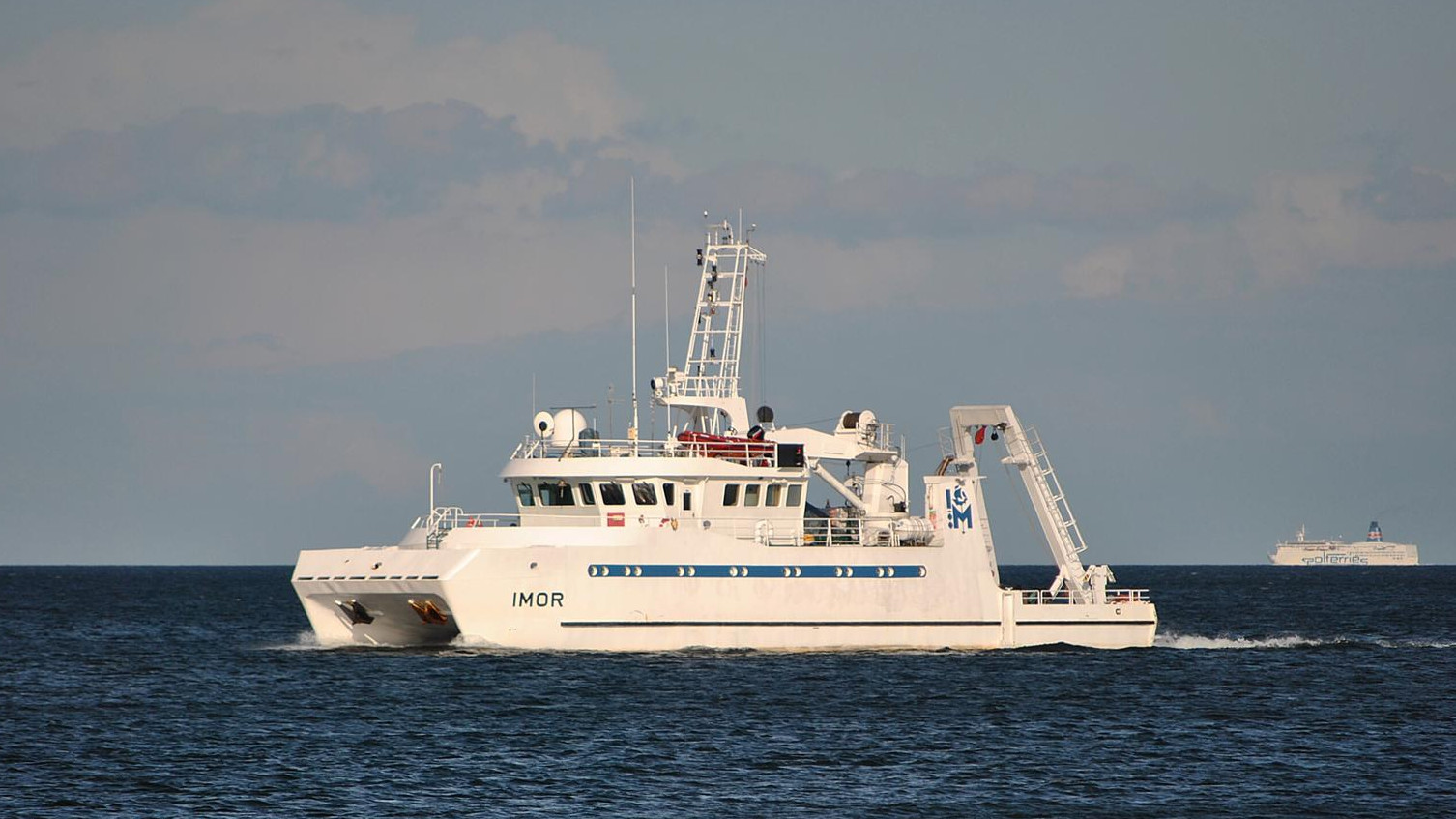 The small size, small draught, high relative power and great flexibility of possible applications makes her ideal for work on shallow waters and for preliminary work during offshore projects starting on shore. A most important trump of the investigative unit is first of all the experienced and high qualified crew which chosen is by the Maritime Institute in Gdansk not only from the point of view of general qualifications but also from the point of view of the research experience and the profile of education.
Laboratorium Morskie IMOR oferuje optymalne kosztowo i elastyczne rozwiązania szerokiej gamy problemów badań morskich, jednocześnie spełniając najwyższe standardy bezpieczeństwa oraz zapewniając zaawansowane technologicznie systemy.
Niewielkie rozmiary, małe zanurzenie, stosunkowo wysoka moc oraz duża elastyczność zastosowań sprawia, że nadaje się on do badań na wodach płytkich oraz do badań przedinwestycyjnych rozpoczynających się na brzegu.
W skład Pływającego Laboratorium wchodzą:
Laboratorium geologiczno-biologiczno-chemiczne,
Laboratorium hydroakustyczne wraz z holowanymi systemami pomiarów pól fizycznych,
Laboratorium geofizyczne-kontenerowe,
Laboratorium komputerowe wyposażone w systemy do przetwarzania wyników badań oceanograficznych.
Laboratoria wyposażone są w zestawy specjalistycznych urządzeń do poboru różnego rodzaju próbek gruntu, fauny i flory morskiej. Statek prowadzi pomiary na wodach Morza Bałtyckiego, Północnego i innych w odległości do 200 mil morskich od portu schronienia, dla klientów z Wielkiej Brytanii, Holandii, Belgii, Danii, Norwegii, Niemiec, Polski, Litwy, Łotwy itd. Z użyciem sprzętu geofizycznego i pojazdów podwodnych ROV.
Statek może być łatwo przystosowany do aktualnych potrzeb, stanowiąc bezpieczne narzędzie, spełniające różne żądania klientów we wszelkich badaniach podwodnych.
Dwa urządzenia dźwigowe (12 tonowy dźwig oraz 3 tonowa rama typu A) oraz dobrze wyposażone laboratorium mokre pozwalają na wykonywanie wielu typów geologicznych prac badawczych.
Możliwość wykonywania prac z udziałem systemu Dynamicznego Pozycjonowania pozwala IMOR-owi na wykonywanie prac w pobliżu masztów elektrowni wiatrowych oraz wielkich konstrukcji petrochemicznych na morzu jak wieże wydobywcze oraz przetwórnie ropy i gazu.